SPX® Max Reformer with Vertical Stand & Tall Box Bundle
The lightweight and stackable SPX® Max Reformer is a great option for home users and facilities with limited space or multipurpose exercise rooms. Generate additional revenue with group classes on the SPX Max and expand programming options with our most sought after Reformer accessories included in this specially priced bundle.
Mô tả
The SPX Max with Vertical Stand stores upright and is perfect for your small studio, gym or fitness facility where space is a premium. Built with superior craftsmanship, it accommodates an extensive range of exercise-expanding accessories like the Vertical Frame or Cardio-Tramp®.
Now with Tall Box
Expand your programming options further with the Reformer Tall box! The extra 4 in (10 cm) height ensures you have the necessary floor clearance to perform the complete Pilates Reformer repertoire on your SPX Max Reformer! For everything from lying prone for arms pulling straps to four-point kneeling for feet pulling straps, the Tall Box adds versatility while accommodating more clients.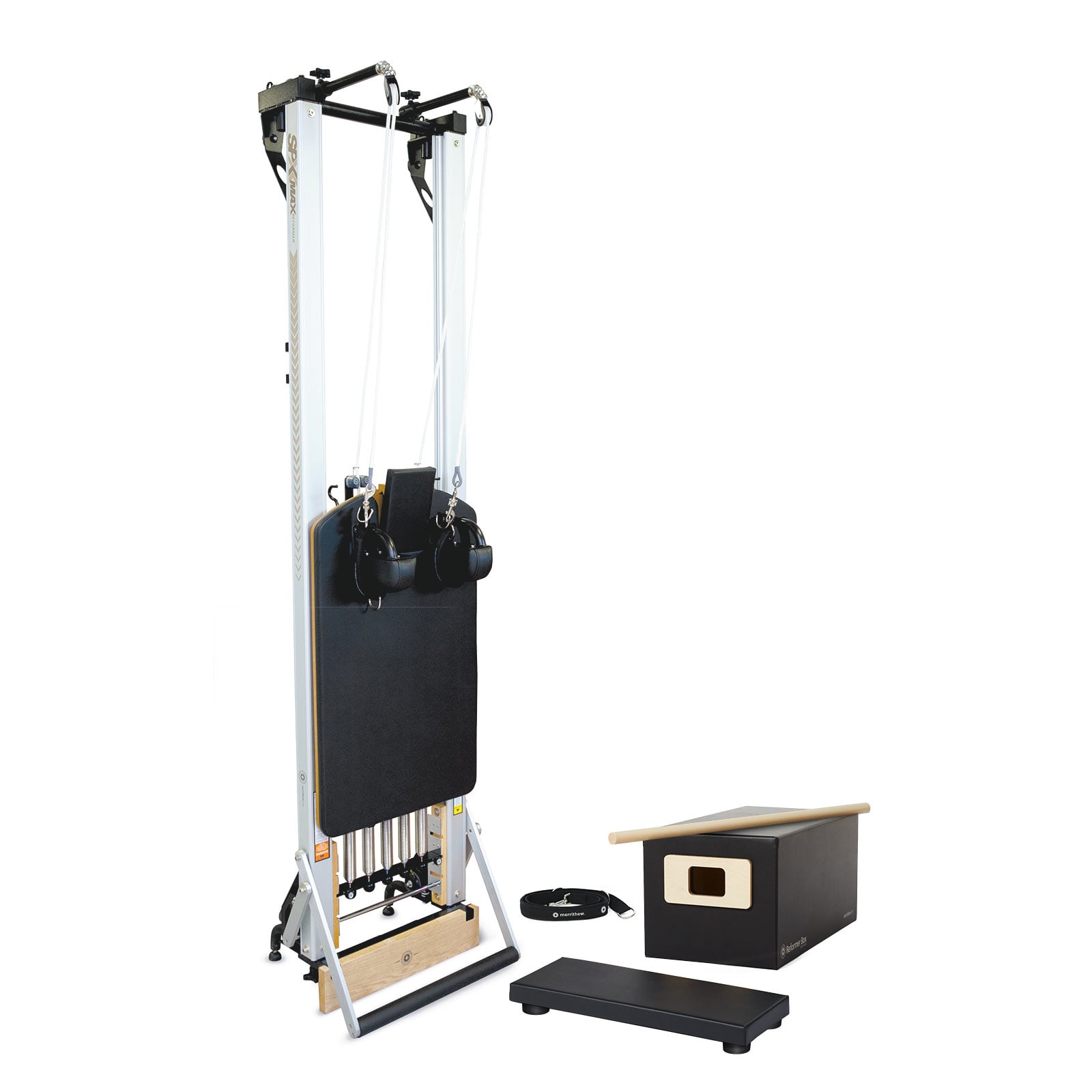 Features
Built to withstand continuous, high-intensity studio use with durable vinyl upholstery and dense EVA foam to provide maximum comfort and accurate proprioceptive feedback
Patented Retractable Rope System with recoiling rope reels for easy adjustments. Longer ropes add increased range of motion and fluidity to exercises – allowing for more programming options
Carriage glides over sleek C-channel aluminum rails, using a patented rolling mechanism for a smooth, friction-free ride
Enhanced Springs are built to withstand vigorous use with Jumpboards, Cardio-Tramp® Rebounders and other Reformer accessories and secure quickly and safely
3 gearbar positions, 6 carriage stopping positions, 3 headrest positions, 4 footbar positions
Robust and adjustable four-position footbar drops easily into cradles to regulate hip and knee flexion
1 in (2.5 cm) thick wooden standing platform and pommel-style shoulder rests support a wide range of body weights
Gearbar slots into three different positions to adjust tension easily
Shoulder rests stay securely in place and detach easily for storage. When stacking, shoulder rests slide conveniently into brackets affixed to the frame and reinforced pulley bars detach and store without disengaging ropes
Upgradeable – add a SPX Max Plus™ Vertical Frame and Mat Converter for Cadillac functionality
Optional Mat Converter allows for Matwork exercises on a comfortable, raised surface
New Comfort Footbar is easier on sensitive feet and hands
Easy-roll wheels make it a breeze to move or reposition
A rolling base is available for added convenience when storing stacked Reformers
Minimal assembly required
All the bells and whistles:Your SPX Max with Vertical Stand comes complete with
Enhanced springs to withstand continuous, high-intensity use
Durable vinyl upholstery available in 10 standard colors at no additional cost
Sleek aluminum rails and neoprene spring covers ensure a quiet ride
Customizable user settings with 3 Gearbar, 6 carriage-stopping, 3 headrest and 4 footbar positions
Retractable rope system for easy adjustments
Liên hệ ngay HOTLINE: 0847896666 để được tư vấn về sản phẩm